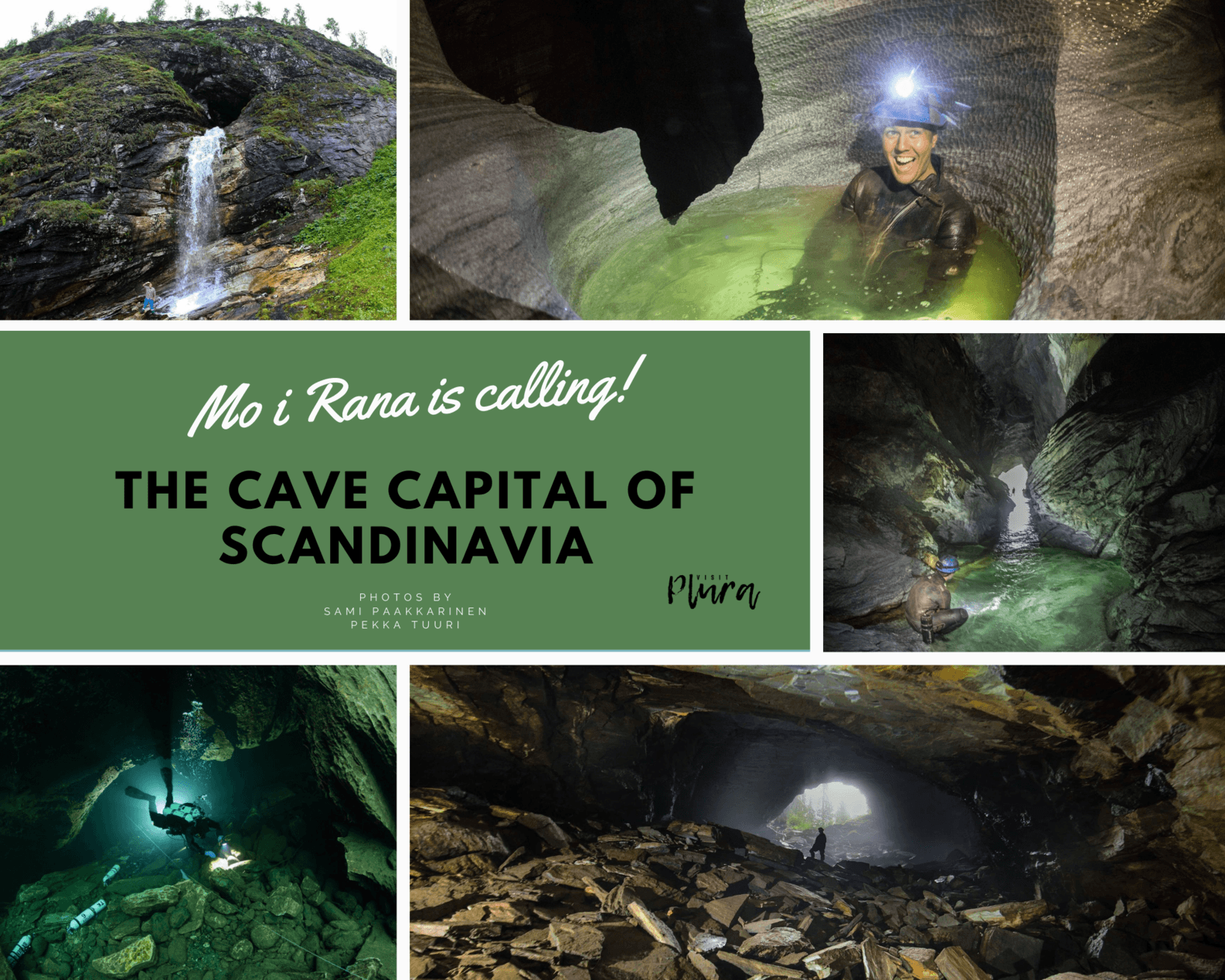 The Cave Capital of Scandinavia
With more than 280 dry caves in the municipality, Mo i Rana sails up as the Cave Capital of Scandinavia. This geological wonderland has several easy to visit caves, and many hidden wonders that are accessible only with experienced cavers. Read more below.
The Plura Cave is Northern Europe's largest water-filled cave. It attracts cave divers from all over the world. The easiest entrance starts on private land, in-between two fields that belongs to the Jordbrua farm. There the Plura river magically appears from the ground, and continues flowing down the Pluravalley. The other entrance to the cave is located deep inside the dry cave called Steinugleflåget. You can see the big rock collapse from the farm, and the hike from daylight and down to the water mirror takes approximately 1 hour. The Visit Plura dive center is close to the caves first entrance and all cave diving training is available on site.
Jordbrugrotta is a beautiful dry cave with more than 5 kilometers of tunnels and passages. There is a river running through the cave, and in addition to the cave being of rock hard marble there are multiple giant's kettles and waterfalls inside the cave. An unforgettable experience. Private tours available and can be booked through Visit Plura.
Of the commercialised caves there are also Grønligrotta which is Northern Europe's largest cave that is also easily accessible for families. They have built the infrastructure with lights, bridges and stairs throughout the cave. At Grønligrotta they do guided tours in the summer and an experienced guide will show the way through the maze. Check out their webpage here: Grønligrotta
If you want to take it up a notch and bring your teenagers to Setergrotta on a proper adventure, more exciting than what you can experience in front of the Playstation, this is the place to go. Here you get dressed up in cavers clothes, helmets and lights. The guide takes you through narrow passages, on an expedition through the mountain. Here you get to challenge your knowledge about the mountains, see the underground river, mountain halls and - if you are of the brave - squeeze through passages. To sign up on a guided trip, check out their webpage here: Setergrotta
Litjåga cave is another easy accessible cave for the cave diving enthusiast. The cave is stretching more than 2 kilometers in to the mountain, and has several restrictions. Be aware that this is not a cave for the fresh cave diver, the water is max 7 degrees celcius in the summer, and wintertime down to 1-2 celcius. Guides are available on request.

These are the top 5 caves that you definitely need to know about when you are visiting the Cave Capital. If you are interested in further exploration or want more information, contact us here: Visit Plura